Park Info
Ian and Sharon Malane welcome you to our park where we hope you enjoy our peaceful surroundings. We offer pet friendly caravan and camping sites. Our fully equipped camp kitchen has lovely wooden benches and an internal fire to warm you on the colder days and nights.
There is plenty of room between the serviced sites with an easy walk to our clean bathrooms. We are more than happy to help you plan your stay with us and recommend points of interest within Kojonup and the surrounding area.
Fires Permitted (Allocated areas)
Grassed Tent / Campervan Sites
Pet Friendly (Conditions Apply)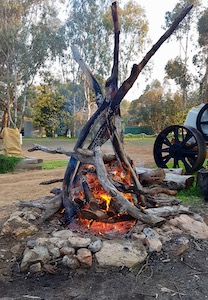 Pet Rules & Guidelines
Pets on a lead are welcome on our sites
Please clean up after your pets
Pets are not allowed in onsite accommodation.
Nearest Vet
Kojonup Veterinary Hospital
128 Albany Hwy, Kojonup WA 6395.
Phone: (08) 9831 1666
Opening Hours: 8.30am - 5pm Mon - Fri; 9am - 12pm Sat
Pub
Commercial Hotel
118 Albany Hwy Kojonup WA 6395
Phone: (08) 9831 1044

Royal Hotel
81 Albany Hwy Kojonup WA 6395
Phone: (08) 9831 1028
Restaurant
Shell Roadhouse
Address: 47 Albany Hwy, Kojonup WA 6395
Phone Number: (08) 9831 1160
Service Stations
Shell Roadhouse
Address: 47 Albany Hwy, Kojonup WA 6395
Phone Number: (08) 9831 1160
Opening Hours:  5am to 9pm Mon -Sat; 6am to 9pm Sun

Caltex Cambells Hi Way Sales & Service 
Address: 154 Albany Hwy, Kojonup WA 6395
Phone Number: (08) 9831 1045
Opening Hours: 5am to 9pm Mon -Sat; 6am to 9pm Sun
Cafe
Black Cockatoo Café
143 Albany Hwy Kojonup WA 6395
Phone: (08) 9831 1606
Opening Times: 9am-3pm Mon-Fri, 8am-3pm Sat and Sun

Country Kitchen
88 Albany Hwy Kojonup WA 6395
Phone: (08) 9831 1338
Opening Times:  8.30am-4pm Mon-Fri

Kojonup Bakery
106 Albany Hwy Kojonup WA 6395
Phone: (08) 9831 0142
Opening Times:  6am-3pm 7 days
Hospital
Kojonup Hospital
Spring Street  Kojonup WA 6395
Phone: 08 9831 2222
GP
St Luke's Family Practice
34 Kojonup - Katanning Road Kojonup WA 6395
Phone: (08) 9831 0622
Kojonup General Practice
1/103  Albany Hwy Kojonup WA 6395
Phone: (08) 9837 3130
Dentist
Kojonup Dental Clinic
2 Stock Road Kojonup WA 6395
Phone: (08) 9831 1029
Pharmacy
Kojonup Pharmacy
114  Albany Hwy Kojonup WA 6395 
Phone: (08) 9837 1035